So here it is... February 14th.
A normal Tuesday if you live anywhere except these here United States.
Here, Tuesday February 14 this the infamous 'day of love'.
I'm not here to be mush gushy about why I love John. I love him for so many different reasons that it's silly to focus on all of them on just one day.
I love him everyday.
We're fun
He reminded me yesterday why I not only love him, I'm also so proud to have him by my side.
John bought me some James Avery bracelets for Christmas (yes, Christmas) and they were a little too big for my wrist. So yesterday he finally found the time to take them back for a smaller pair. On the way, he was getting off the interstate when he saw a homeless man holding a makeshift sign. If you've ever been to Houston then you know that sadly there are homeless people everywhere. Unfortunately, it's impossible to stop and help them all. However, John said he felt something when he read this mans sign. It simply said "Just Hungry".
So simple and so honest.
John went to the nearest McDonalds and bought a meal for the man.
I wish I could have been with him to see how thankful that man must have been.
When John finally got back to pick me up for lunch, I was wondering why he was a little late.
After he told me the story, I was so touched that I started to tear up.
You just never realize how blessed you are until you come face to face with someone who is going through such hard times.
It puts things into perspective. I know I am currently in between jobs and constantly searching for my dream job, but I'm stable. I have a home, I have a family.
I am completely blessed.
So remember that today isn't all about heart shaped boxes and chocolate covered treats.
It's about being with the people you love and being thankful that they're in your life.
My posts are usually much more light hearted than this, but it was just something I was thinking about and decided you all needed to read :)
And for all my single ladies out there...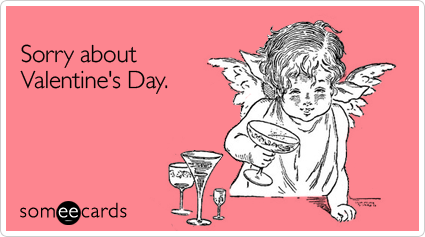 and my personal fav...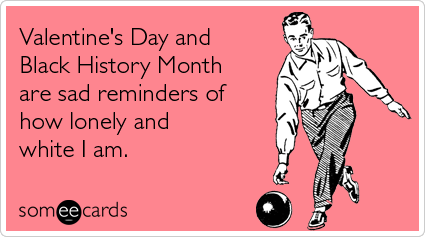 Duh, had to throw those in there.
I hope you all have a happy Tuesday!