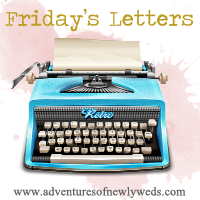 Dear Schools in or around the vicinity of Houston, I can only email you so many times. Please hire me before I literally go insane deeming me unhireable (not a word, but you get it...still hire me).
Dear Cash, I love that you follow me everywhere around the house because it's so rare that I actually get up off the couch that you think something special is about to happen. However, when I head into the bathroom, its not very nice that you nose your way in there also and stare at me.
Dear John, Thank you for telling me I'm pretty even though I've had an unusual amount of strangers tell me other wise... to my face. Also, thank you for mowing the yard after I yelled at you about mowing the yard.
Dear Houston Heat, You make me want to stay inside forever, and I hate that! Can we knock it down a couple? I mean the humidity has gots to go.
Dear Friday, I'm so glad you have graced us with your presence yet again. I don't know why I get so excited about you because everyday might as well be Friday to me, but I'm happy that John gets to spend more than a couple of hours at night with me. So thanks for that.
Dear Readers, whazzzaaaaap (remember that?) Thank you for being here and following along with my randomness! I lurve ya'll. Mean it!