Its no secret around here that I like a good link up. I usually don't blog on the weekends because I like to spend my weekend time doing things away from the computer...like watching tv.
And, since John is sawing logs over on the couch, I thought I'd jump in on the fun.
Today I'm linking up with Neely and Ashley for Sunday Social!
Today's topic is all about food... naturally I had to join in.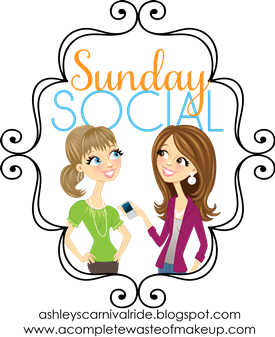 If you could only eat one thing for the rest of your life, what would it be?
Pizza. The thing I love about pizza is that when its bad...it's still not that bad because it's freaking PIZZA.
What's your guilty pleasure/comfort food?
Chips. I could put away an entire bag of chips in one sitting if I'd let myself. I've always been a salty foods person and chips are right up my alley.
What's the weirdest/craziest thing you've ever eaten?
I'm no Andrew Zimmerman. Like, at all. So I guess the weirdest thing to me that I've ever eaten is Oysters straight out of the ocean. So gooey. So gross.
Also, John and I tried tofu the other night and I had no idea that it came in a brick submerged in water and you had to "pat it dry" to cook it. Tofu is weird.
What foods do you avoid at all costs?
Chinese, Indian, Thai, and pretty much anything with the words "sweet and sour" in the description
What meal reminds you of your childhood?
Growing up we didn't really have that much moolah so I got by with a little help from spaghetti and tuna in a can. I think the one meal that reminds me the most of my childhood is Manicotti because it was always such a treat when momma would make it and it's still my favorite Italian dish.
Share one of your favorite recipes and the story behind it.
I think my favorite recipe is the easiest and the first thing I ever learned to make.
It's a breakfast casserole and I learned to make it in HomeEc class in like the 10th grade.
It stuck with me because it's so easy and one morning when John and I were in college I thought I'd be real impressive and whip up this dish.
Turns out, his mom makes the same thing every Christmas morning and it's his absolute favorite.
And then he fell even more in love with me :)
Breakfast Casserole:
1 can pillsbury crescent rolls
1 package of ground sausage
1/2 package of cream cheese (duh...who doesn't like cream cheese?)
Brown the sausage in a pan then mix in the cream cheese until blended (you can add more or less cream cheese depending on how much you love it)
In a baking dish place 1/2 of the crescent roll flat on the bottom of the dish to form a type of crust.
Pour the sausage mixture on top of the crescent roll and spread evenly.
Place the other 1/2 of the crescent roll flat on top.
Bake according to the instructions on the crescent roll can.
And voila! Best, easiest breakfast ever!
Until next time!