The Fourth of July is one of my favorite holidays for several reasons:
1. Hot Dogs
2. Wearing ridiculous amounts of red, white, and/or blue.
3. Singing patriotic songs while throwing an occasional fist pump into the air.
4. Family
5. Fireworks
We always have family out to our house for the Fourth to grill out, chill out and shoot off some fireworks.
Momma made her famous peach pie and cream cheese corn,
Greg made his famous ribs and hot dogs,
and I brought my famous appetite.
We ate and visited, and ate some more.
Life is good.
Like many parts of the south, it hadn't rained in a bazillion days here in Northwest Louisiana, so there's been a burn ban across the area which, sadly meant no setting off personal fireworks.
It'd only take one spark to set the entire state a blaze at this point.
However...in a strange turn of events, it came a torrential DOWNPOUR last night with lightening and thunder....guess God put on his own fireworks show :)
The main fireworks show in Shreveport/Bossier was delayed for over an hour...but finally the rain moved on.
I mean, seriously...it hasn't rained in forever then on the one day you really don't want it to it floods... typical.
Luckily, one of the local news stations broadcasts the fireworks show they have on the Red River so I got to enjoy watch it from the comfort of my own living room.
TV fireworks < Fireworks in person.
All in all the Fourth, as always, was fun!
And of course I snapped some patriotic puppy pics...
Such a stud.
Cash rocked his American flag bandanna all day...
which kind of made it gross from swimming.
At the end of the night Oscar curled up with me to watch the fireworks show fireworks on tv... boyfriend passed out before they started
Hope you all had a happy, safe Fourth!
I'm also linking up with
C mae
for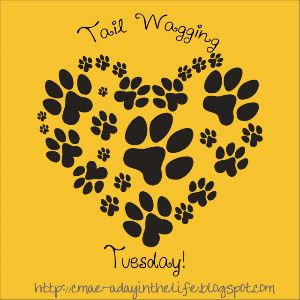 Have a great day! Enjoy the short work week!